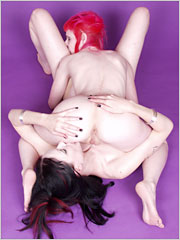 What do you like about being bitten? Is it a submission fantasy or vampire victim fantasy or is it about the animalistic wildness of it or the feeling of it?
I like the sharp pain that I get when someone first bites me, then the way it fades into a more dull erotic sensation. I also like the submission of being held down and bitten, how it hurts more if you squirm :-)
How do you like to have your hair pulled?
I like to have it grabbed at the base of my hair and have my head pulled back :-) Yum
What do you like about submission and what ways do you enjoy submitting?
I like being submissive because I like to live out other people's fantasies. Basically you are letting the dom do whatever they want to you, letting them turn you into their sexual play toy. There is something erotic about having no say in where the experience is going, you just have to trust the other person to read you. I also like the contrast of pain to pleasure, and not knowing which I will receive next.....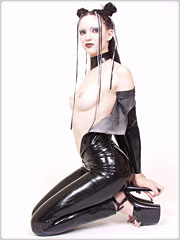 What do you like best about latex/rubber?
I like the feeling of someone's hands all over my body, rubbing lube onto the latex after I put it on :-) I have also always had a bit of an encasement/ mumification fetish, I like how my body feels restricted when I am wearing it....
How do you feel about corsets?
I have always loved to wear waist cinchers more than corsets.... but the principle is the same I suppose. I just like for my breasts to be accesible :-) My favorite is to wear a waist cincher with no top at all, just some pasties or some tape over my nipples....
How do you feel about boots?
I loooove boots! I have 2 pairs of black vinyl thigh high boots, one with laces and one without. I have about 4 pairs of daytime boots too... I am looking to get some knee high lace up stilletos. In fact I cannot imagine why I don't have any yet. I must be the only girl I know who doesn't!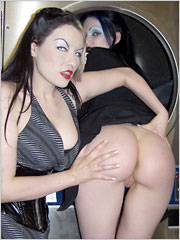 Do you like to fool around with girls?
Doesn't everyone? Woman are so beautiful! Although I must say I could never only be with a girl (but for that matter I could probably never be with only a guy either), but I do love to play with them :-) Woman are just so soft and smooth, I especially like shy woman but only if I know they are really into it, not if they are resistant at all. On the other end of the spectrum though I love trashy girls....
Would liking girls keep you from being into guys?
No but I always asked that guys who I am dating understand that every now and again I am going to need to play with another girl. They are more than welcome to join in, of course, but I cannot just be happy with a guy.
Do you consider yourself a top, bottom, or switch?
I think I lean more towards being a bottom but there are definitely times when I love to top. If I am topping a guy I can get more aggressive then I can with a woman. When I play with girls I like to be more sensual with them, and alternate between giving them pain and pleasure :-)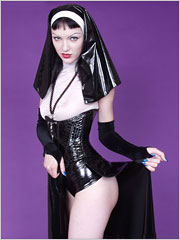 When did you realize you liked BDSM and how did you get into it?
The first S+M experience I ever had was with my high school boyfriend, who he tied me up with the laces of his 20 hole docs one day when we had ditched school. He had a flogger, too... and handcuffs, which we used together... But it was not until I was a little older that I got more hardcore into it. I was invited to do a stageshow by one of the doms in a local LA S+M club and we performed together that night and at least twice a week afterwards for some time. We would go to a lot of lifestyle parties and play together, too...
What are your favorite bondage materials?
When I first got into the scene I was very hardcore. I could take any amount of pain from any tool. I would finish scenes and be bruised and burned a lot of the time. But I have mellowed out more recently, I definitely like pleasure to be a big part of my experiences not. My favorite tool is the flogger, I also love candle wax. I get really turned on by bondage and gags as well. And my all time favorite is to be mummified and do breath play. It's not so much the feeling of being wrapped up that I enjoy, it's the feeling when I get let out. It's like being born, all the senses that you were deprived of suddenly come back and flood through your body.
What are your favorite bondage positions?
I have always preferred to be tied to something rather than just to myself. I like being tied to bedframe's or bondage equipment like spanking horse's and X-Fame's.
What types of sex toys are your favorites and how do you like to use them? Do you like to have partners use sex toys on you?
I have always preferred that when I am actually having sex with someone that no toys are involved, except maybe a cock ring..... When I masturbate, however, I like to use toys :-) I have a pink glass dildo that is my favorite! Also during foreplay I like to have my partner use toys on me :-)